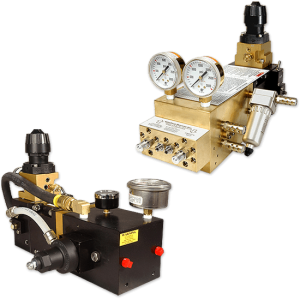 It may become necessary to boost output pressure in a variety of different applications. Air-driven gas boosters may be utilized to achieve desired output pressure. Air-driven gas boosters are a popular choice for boosting output pressure because the boosters are portable.
Air-driven gas boosters are ideal portable methods of boosting output pressure for many reasons. Systems typically weigh less than 15 pounds, making it easy to transport the booster.  Systems also require few components for installation. As long as two hydraulic lines and an air connection are available, the air-driven gas booster should be able to be installed.  Boosters can also be used in a wide variety of applications because the boosters do not generate heat and do not need a heat exchange like a more traditional hydraulic system would require.
For those interested in exploring whether a portable air-driven gas booster is the appropriate booster to utilize, contact Interface Devices, Inc. today to find out about the full line of available gas boosters.