IDI's New Zero-Leak Poppet-Style Directional Solenoid Valves Maintain Pressure for Very Long Periods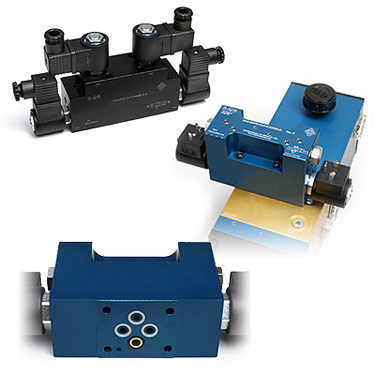 IDI's new line of zero-leak solenoid directional valves are cost-effective solutions for reliable actuation of single- or double-acting cylinders. The D03 Series valves can be used with most hydraulic pumps to maintain pressure for very long periods without replenishing the pressure supply, preventing the hydraulic supply from consuming energy or generating heat.
Read more about this new line on our Techno-Blog, or click here to view a PDF of our "Zero Leak Solenoid Valves" brochure. This brochure provides technical details, schematic drawings and ordering information for all four models in the D03 series of zero-leak valves. Print copies of this brochure are available by request.
To request copies of the "Zero Leak Solenoid Valves" brochure, or for more information on the D03 Series, please contact IDI by phone at 800-539-0193, by fax at 203-882-0885 or by email at info@interfacedevices.com.