Interface Devices' D03 Solenoid Poppet Valves Chosen for Private Space Launch Application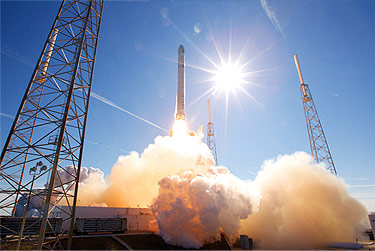 Space Exploration Technologies (SpaceX) has received much publicity recently with the second successful docking to the International Space Station and safe return to earth of their Dragon vehicle that was launched atop a Falcon 9 rocket. They have now undertaken the task of upgrading their launch facilities to allow them to continue to be a leader in private space launches.
Prior to launching any of their rockets, SpaceX utilizes a sophisticated lift system to take the rocket from a horizontal position to the vertical position. In designing the system that incorporates multiple lift cylinders, the design called for utilizing poppet style high flow logic control valves. After the rocket has reached vertical, it will remain there for possibly a lengthy time so it became critical that the leakage of fluid and pressure be held to a minimum.
Florida Motion & Control (located in Orlando, Florida) worked in conjunction with engineers from SpaceX to select the Interface Devices Incorporated zero leak poppet style D03 solenoid valves to use as pilot valves on these logic valves. You can read more and follow the SpaceX success story at www.spacex.com. SpaceX videos can be found here.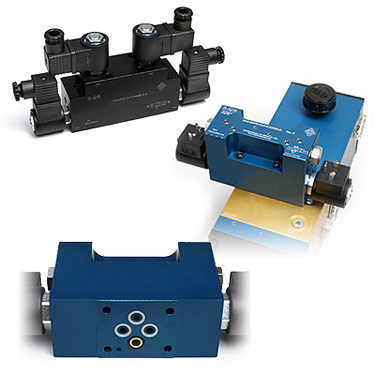 As evidenced by the SpaceX application, Interface Devices' D03 Series valves are a versatile option for a wide variety of applications requiring reliable, accurate pressure control for extended periods of time. An added benefit of using these poppet-style valves is that their hydraulic supply does not consume energy or generate heat.
The D03 solenoid-actuated directional control valves are ideal for applications with pressures up to 5000 psi where pressure and flow are intermittent. With a width under 2", multiple valves can be mounted on standard 2" centers. They are also designed to mount to D03, NG6 and ISO 03 international-standard valve subplates.
All IDI D03 Zero-Leak directional solenoid valves are constructed of premium materials, including bodies of 7075-T651 extruded aluminum bar; poppets and seats of hardened and ground steel; and O-ring seals and backup rings of polyurethane and PTFE.
With a variety of standard options – including a pressure port check valve – plus optional seal materials, solenoids, connectors and bolt kits, the D03 Series valves can be customized for a multitude of applications.