World-class Machine Integrator Uses IDI Pumps as Part of its Customization Process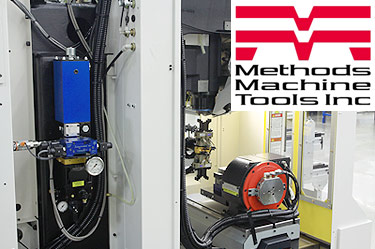 Methods Machine Tools Inc. is a leading importer and supplier of precision CNC machining systems. Method's staff creates specifications and design solutions to meet the metalworking needs of its customers. When Control Engineer Guy Parenteau needed an air-driven hydraulic pump to customize FANUC ROBODRILL CNC machining centers, he turned to Toomey Associates – a distributor of high-pressure hydraulics and instrumentation products. To fulfill this requirement, Toomey custom hydraulic design applications specialist Wayne Baldwin recommended Interface Devices' H-Series Air-driven Liquid Pumps.
ROBODRILL vertical milling machines are known for their reliability and long life, with many units staying in service for more than 15 years. Parenteau was pleased with Baldwin's choice of IDI's H-Series pump. "With a solid track record of reliability and repeatability during demanding precision machining applications, the H-Series pump was a great match for ROBODRILL's reputation," said Parenteau.
"Aerospace, Medical, Automotive and Energy industry tooling applications rely on precision part-making machines, and there is zero allowance for even the slightest movement in the workpiece during the drilling process," Parenteau said. He added, "IDI's air-driven hydraulic pump allows the ROBODRILL clamps on the fixture to hold a part and keep it steady while maintaining critical pressure during drilling."
Methods has now been using IDI products in a variety of applications for more than 6 years. Parenteau has always had a positive experience with IDI products and customer service. Although he can't remember needing to place a service call about an IDI pump, he has spoken directly with Mike Hotchkiss, VP of Sales.
"I was quite impressed that a critical person in the company took the time to assist customers and provide support," Parenteau said. Hotchkiss was equally impressed with the cleanliness of Methods' production area (below) during a visit. He described their production space as being "a spotless, showroom-quality facility, which is unusual for an industrial machine supplier." Parenteau explained that Methods believes in exceeding customer's expectation from start to finish and, "we feel Interface Devices shares the same philosophy."

IDI distributor Toomey Associates of Westfield, MA distributes pressure hydraulics and instrumentation for industrial solutions. Toomey has been supplying Interface Devices' air-driven liquid pumps to customers for more than 14 years.
Toomey Associates, Inc.
P.O. Box 577
1100 Russell Rd.
Westfield, MA 01086
800-762-5192