Interface Devices Introduces Line of Durable, Yet Affordable, Air-driven Liquid Pumps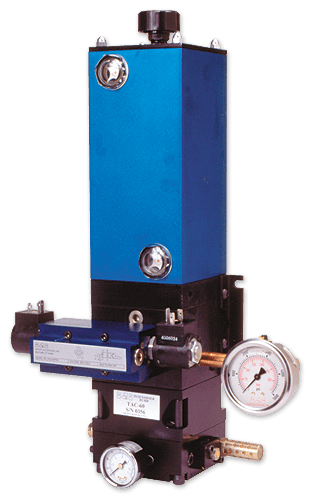 Interface Devices, Inc. (IDI) now offers the TASQ line of durable air-driven liquid pumps. These single acting pumps are designed for applications requiring intermittent flow and pressures. The TASQ pump series offer air to hydraulic ratios from 5:1 to 60:1 for pressures up to 5,000 PSI, and flows can range up to 3.5 GPM.
TASQ pumps are fabricated with an aircraft-grade aluminum housing and high-quality components. They provide a significantly longer service life compared to other pumping alternatives available, at an affordable price.
Among the advantages of these IDI pumps are their Teflon based seals that require no lubricator, their compact size (4" x 4" x 9") and at only 11 pounds, their portability. Since they are air-driven, no electricity is required, and no unwanted heat is generated.
IDI's TASQ pumps are compatible with most hydraulic oils. They are ideal for a wide range of applications, including power workholding, crimping, torquing, and static pressure testing, and many more.
For complete technical data on the new TASQ pumps, please contact IDI toll-free at (800) 539-1093 or by email at info@interfacedevices.com.