With a heart full of many fond memories, we wanted to let you know that on June 26, 2011, Interface Devices lost its founder, Thomas W. Hotchkiss.
Tom's legacy includes not only all the products we offer today, but also a life full of family, friends, business associates and more who benefited from his integrity, honesty and sense of fairness. He had the mind and heart of an engineer that spilled over into all that he did both personally and professionally – his joy was to design solutions. Solutions for those who had exhausted all other options, and solutions for situations that simply made for interesting challenges.
Professionally, Tom established IDI in 1971, founding the company on his innovative product design and desire to offer customer service that met or exceeded the quality of his products. With this solid footing and his guidance, IDI has grown into a world-class designer and manufacturer of air-driven fluid pumps, hydraulic valves and custom-engineered fluid power products. Tom holds numerous US patents, including patents for the company's unique Hi/Lo Pump and Zero-Leak Solenoid Directional Valves. Tom retired from IDI in the summer of 2005.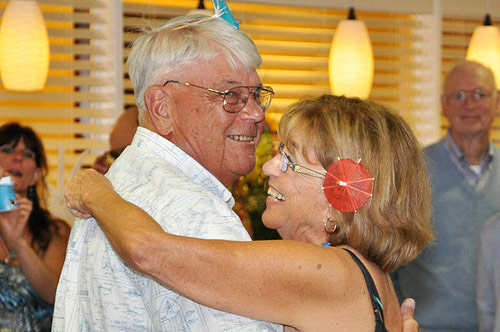 The path to founding IDI began when Tom graduated from the University of Michigan and landed a job as a design engineer at Sikorsky. This was not only a start to his career – most importantly it was a life-changing decision because it is where he met Sandra German, a co-worker that would become his wife! Eventually, Tom went to work for his father-in-law at Eldorado Tool in Milford, CT, as a machine designer. It was here that his engineering talents were honed, resulting in the receipt of patents. It is also rumored that his experience here helped to kindle and expand his entrepreneurial spirit, leading to the creation of IDI.
Personally, many of the engineering inspirations not applicable to what IDI produced would show up in extracurricular family projects in the evenings and on weekends. Of note are: an underwater personal propulsion device, a perpetual motion motor powered by magnets, soapbox derby cars, life-size Peanuts characters for a local fair and, once, a giant turkey float for a town parade. The turkey won first prize for best float that year!
Tom was born in New York City and resided in Connecticut for many years with his wife, Sandra and their three sons, Thomas, Michael and Steven. Most recently, he spent summers in Lake Bomoseen, Vermont and winters in Bonita Springs, Florida. His time was filled with family, friends, tennis and boating.