Air-driven Liquid Pumps for Intermittent Pressure Applications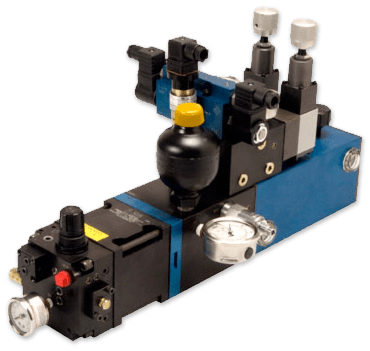 Interface Devices' E, H and P Series air-driven liquid pumps offer a plug-and-play design for quick and simple installation in applications requiring hydraulic pressures from 100 to 10,000 psi. A built-in air regulator allows for varying inlet air pressure from 0 to 125 psi and a wide range of hydraulic output pressures. This series can be customized in almost limitless ways.
The pumps consume little or no energy upon achieving the desired hydraulic pressure and pressure is held for long periods without energy consumption. No heat is generated while maintaining pressure, eliminating the need for larger than required oil reservoirs or heat exchangers used with electric driven hydraulic units. In periodic pressure applications, air driven pumps are significantly cheaper to operate than traditional power units.
Compact and lightweight, this line of horizontal or vertical mounted pumps is ideal for applications including power workholding, static pressure testing, crimping, tensioning, pressing and braking. These pumps are also widely used for hydraulic tools and roll machines such as mills.
E, H and P Series air-driven pumps can be supplied with integrated hydraulic circuitry for cylinder actuation, pressure sensing and control or any other hydraulic function. Pumps can be purpose-built for applications with operation requirements ranging from manual to automatic.
Available options include a self-contained oil reservoir, integrated shut-off valve and countless hydraulic circuit options built into the pump, eliminating plumbing and external manifolds. Aerospace-grade seals are standard for longer life and superior operation. The pumps require no lubrication or regulator. Clean and dry compressed air is all that is needed for operation.
E, H & P Series pumps are available in double acting and multi-ratio configurations for optimal efficiency. Multi-ratio pumps use a patented design to deliver high flow at low pressure and switch to high pressure mode on demand so minimum compressed air is used for each pressure cycle while maximizing actuation speed.
For more information on Interface Devices' E, H and P Series of air-driven liquid pumps, call 1-800-539-0193 or email info@interfacedevices.com.