Discuss your requests, application or support...
+1 203-878-4648
Toll Free: 800-539-0193
Why Work with IDI?
At IDI, we pride ourselves on manufacturing outstanding products and providing superior service, and a live voice will always greet you when you call during business hours. IDI's knowledgeable, highly experienced staff will provide you with honest advice and standout support every step of the way, from design consultation through post-install troubleshooting and prompt repairs. Quick shipment of in-stock parts is typically available. Read more about what sets us apart from the competition. »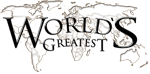 Watch now: IDI was featured as an industry leader on the World's Greatest!... cable television show.
[ Run time: 3 min. 32 sec. ]