Interface Devices Releases Training Program for the Model OB-30 Oxygen Booster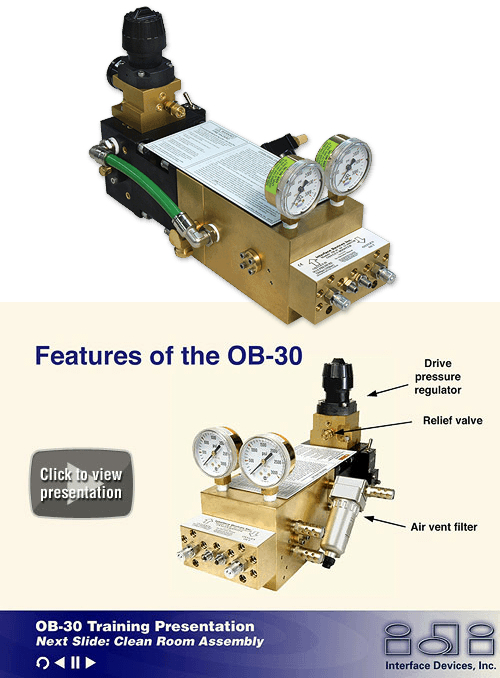 Interface Devices (IDI) has launched an instructional training program for its model OB-30 Oxygen Booster.
View the Flash training program // View on YouTube
This brief presentation provides valuable information regarding safe installation and operation of the OB-30. An overview of how the booster works is presented followed by a review of the components. Following this introduction, a narrated video demonstrates proper installation and safe operation. Links to important web sites and documents are included in the presentation allowing quick access to important reference materials, including the OB-30 manual.
Ideal for use in ground support operations, the model OB-30 Oxygen Booster delivers up to 2500 psi oxygen pressure. No inlet air valve, regulator or lubricator is required. PTFE compound dynamic seals allow for long life and sparkless operation. This gas booster is a positive displacement piston pump for maximum efficiency and generates no heat. The OB-30 can be mounted horizontally, vertically or can be supplied with a two or four bottle maintenance cart.
Founded in 1971, Interface Devices, Inc. is a world-class designer and manufacturer of air-driven fluid pumps, hydraulic valves and custom-engineered fluid power products.